Please note: Due to high demand and supply chain issues, we currently have a limited inventory of all models.  We appreciate your understanding and patience.
AquaNui Water Distiller On Sale!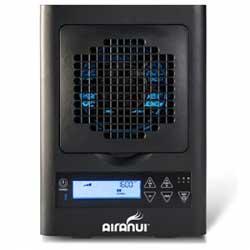 Breathe Easy with the AiraNui Deluxe Indoor Air Purifier
Retail Price: $400
Sale Price: $299
Introducing AiraNui: The Most Effective Indoor Air Purifier that Money Can Buy. Purifies air in homes and offices and is the perfect solution to remove allergens and dust from indoor air. Breathe Easy.

---
About AquaNui Home Water Distillers
Nobody Really Knows What is in Your Home's Water
Pollutants That Could Be In Your Water
A Note About Legal Limits and Your Tap Water
You Have a Choice When It Comes To Drinking Water
The Cost of Home Water Distillation Systems
How Do You Choose a Water Distiller for Your Home?
Drink Distilled Water at Home & On the Go
About AquaNui Home Water Distillers
AquaNui home water distillers are made for the family who wants to drink the purest water available. Our made in the U.S.A. stainless steel water distillers for home use are built to last by Pure and Secure and are simply the best that money can buy. With over 45 years of experience, we offer the best countertop water distiller around. Your AquaNui distiller for water will protect you and your family from harmful contaminants like arsenic, chlorine, lead, mercury, pesticides and nitrates. In addition to that, it removes bacteria, viruses and any biologicals.
Nobody Really Knows What is in Your Home's Water
Boil alerts are sent out by the government, often daily in different areas, to warn citizens not to drink their water without boiling it first. Boiling water long enough will kill bacteria, but concentrates other contaminants, which can be a concern. So, if there is a chemical spill, a boil alert is not issued. Instead, citizens are told not to drink or sometimes even bathe in or touch the water. This leaves your home without clean water to drink or cook with! Only distilled water can remove all of these contaminants. Reverse Osmosis and Carbon Filters fall short and are not able to remove everything that might be affecting your water quality. In fact, there are 85,000 possible contaminants, but only 123 are tested for. Our goal is to provide you with the best distilled water for drinking available. Aquanui provides the best automatic water distiller for home use because we make long-lasting, stainless steel units that will provide excellent water for years to come.
Pollutants That Could Be In Your Water
The fact is that you may not always know what is in your water. Leaks or contamination is often discovered once people get sick. By that time you and your family may have already been exposed. Prevent unnecessary illnesses or exposure by drinking distilled water from AquaNui water purifiers.
A Note About Legal Limits and Your Tap Water
Our tap water is regulated by the government. Contaminants in the water, as long as they are within the legal limits, are allowed. So, your tap water is not pure water. It has some levels of "acceptable" pollutants. For example, in 2006 the EPA put stricter standards on arsenic changing it from 50 parts per billion to 10 parts per billion. Many areas have exceeded that limit over the years, and arsenic is a known carcinogen. It should be noted that some contamination is not from man-made pollution, but the result of minerals dissolving from weathered rocks and soils. The reality is that, man-made or not, pollutants can make their way into your tap water. The government has weighed the pros and cons and have accepted some risk because a balance has to be struck to provide water for a decent price.
You Have a Choice When It Comes To Drinking Water
Protect yourself and your family from exposure to potentially contaminated water. You don't have to accept "legal limits" which have been set by weighing risks and benefits. We are all free to opt in to drinking cleaner, 99.9% pure water, which only household steam water distillers like AquaNui can provide. Reverse Osmosis and filters alone cannot provide the same purity.
The Cost of Home Water Distillation Systems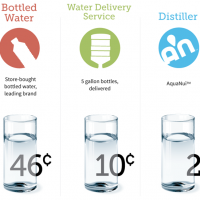 Comparing bottled water, delivered water and distilled water proves that drinking distilled water is definitely the least expensive. By our estimates, bottled water costs 46 cents per glass, while delivered bottled water in a five gallon bottle would cost around 10 cents a glass. The AqauNui glass of water would only cost 2 cents per glass. Not only will you save money, but you will help save the planet by reducing waste that occurs from plastic water bottles and the gas emissions from water delivery services.
You are not paying extra to own a steam water distiller. You are paying less.
Figures include cost of the treatment system and electricity over the life of the machine. AquaNui water distiller for home use cost is based on 10 cents/kilowatt-hour residential electrical rate for Lincoln, Nebraska. Bottled water price based on a leading bottled water brand and water delivery service available in Lincoln, Nebraska. The AquaNui distiller cost per glass is rounded up.
How Do You Choose The Best Water Distiller for Home Use?
It's easy to buy a home water distiller. The AquaNui CT is a small manual fill portable countertop water distiller. We recommend the AquaNui CT for one or two persons, a small apartment, or an RV. It produces approximately 0.8 gallons per batch. Our automatic water distiller machines include the AquaNui 8G which produces up to 8 gallons of distilled water, the 10G which produces 10 gallons and the 12G which produces 12 gallons daily. All of these units are perfect for families.  Consider the 12G if you have a larger family or for the office.
Our automatic equipment is easy to install. We recommend putting them in the basement, garage, laundry room or another out of the way area. The units come with instructions and a knowledgeable local plumber should be able to help you install your new distiller as well. We make the best water distillers right here in the U.S.A. with care. Our company is family-owned and operated. We use the best parts, stainless steel and offer a 15 year warranty on stainless steel components as well as a 2 year warranty on parts. Our distillers are among the longest lasting on the market today!
You can also choose the size of your storage tank (5, 10 or 15 Gallon), which can be accessed in case of a boil alert or other emergency.
Drink Distilled Water at Home & On The Go
Did you know that approximately 60 million plastic water bottles are thrown away every day in America? You won't be wasting money when you have the purest water available right at your fingertips. By having an AquaNui water distiller you will be able to fill up your favorite water bottles to go! No recycling. No additional waste. Take your pure water with you when you work out, pack it in your lunch and your children's lunches too. Take some to work with you or let your workplace know about the amazing benefits of having a distilled water machine at the office. Our larger units are great for the office and our parent company, Pure and Secure, produces distillers for offices, apartment buildings, embassies, labs and more.  Visit our page entitled, "Why Drink Distilled Water" for more information on the benefits.