Sleek, Safe and Customizable
Your AquaNui will be just that; YOUR AquaNui customized with modular components to fit your family or business.  That makes AquaNui unlike any other water distiller available for purchase. The compact AquaNui has the narrowest profile and footprint of any premium water distiller we know of. It comes in three production sizes and because of it's unique modular design, you can increase the production and storage capacity as your family or business grows. AquiNui also offer upgrades so you can fit your distiller to your lifestyle. Add a pump and you can distribute water throughout your home or workplace.

I'm incredibly proud of AquaNui. It saves a lot of space compared to other distillers, and it can be upgraded as your family grows." — Paul Meder, Director of Technical Services and Chief Designer, Pure & Secure
Production and Storage Options
With AquaNui, you are buying a premium water distiller that can grow with your family or business. Choose from distillers that produce 8, 10 and 12 gallons a day, and storage tanks that hold 5, 10 or 15 gallons. We offer the largest storage tank in the market for a price less than our competitors. Add extra storage tanks to boost your emergency reserves.
Sleek, Compact Design and Awesome Upgrades
AquaNui is designed for today's lifestyle. It's stylish, compact design occupies less room than any other distiller in its class. And, you can upgrade your AquaNui with stylish facets, additional storage tanks, and even add a pump to dispense water throughout your home or workplace. AquaNui is made in the USA from 100% American stainless steel. And it features a simple, two-button operation.
Simple to Use and Safe to Have in Your Home
The AquaNui is easy to set up and features  simple, two-button operation. We've taken extra care to ensure the AquaNui is safe to have in your home, even if you have small children. We thoughtfully placed the boiling tanks on our automatic AquaNui machines inside a separate, stainless steel shell. So, other than the AquaNui CT countertop unit, AquaNui 8G, 10G and 12G distillers run cool to the touch. This is a safety feature most of our competitors have ignored.
The most popular option is to upgrade by adding a pump. Next comes adding an extra emergency storage tank." — Courtney Meder, Account Executive, Pure & Secure
Easy to clean and maintain
AquaNui boiling tanks are removable, which makes them easy to clean and service.
AquaNui storage tanks are steam sterilizable*, which kills bacteria and viruses.
*Steam sterilization is a special cleaning operation that uses the steam generated by AquaNui to sterilize the storage tanks. Steam sterilization kills harmful bacteria and viruses, but it only works with stainless steel equipment like ours. We recommend steam sterilization at setup and once a year thereafter.

AquaNui Automatic Distillers — Features and Benefits
Choice of 8, 10 and 12 gal./day units
Choice of 5, 10 and 15 gal. storage tanks
Expandable as your family grows
Narrow design, small footprint
Upgradable by adding a pump
Made in the USA
Removable boiling tank
Two-button operation
Steam sterilizable
Cool to the touch
Includes stand with adjustable leveling feet
15-year limited warranty — 2-year full warranty on electrical parts.
Trusted Premium Water Distillers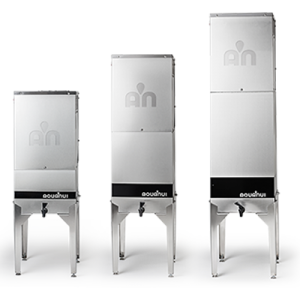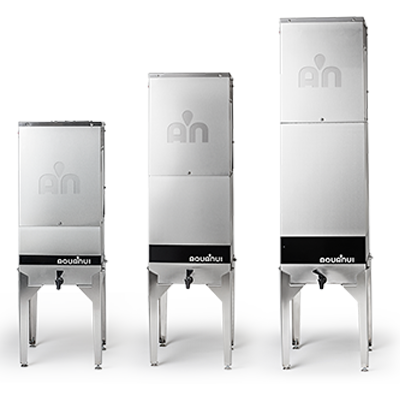 AquaNui premium water distillers combine the best in design, performance and price. Stainless steel is the ideal material for a distiller and makes every AquaNui unit incredibly durable.  AquiNui water distillers are modular and space-saving. They're designed to fit your needs and your lifestyle.
It's easy to configure an AquiNui premium water distiller for your home or office:
Select the production capacity that fits your family or workplace.
Pick a storage tank size.
Choose your accessories and add-ons like one of our elegant faucets or a pump kit that allows you to dispense pure distilled water throughout your home or workplace.
AquaNui distillers are easy to install. A complete installation kits come with every AquaNui.
Why not configure your AquaNui today? It's easy to do. If you need assistance, our customer service representatives are ready to help.

Call us today: 1-800-875-5915
We have well-trained customer service technicians.
Many of our customer service technicians have been with us for over 20 years.