Q: Is Drinking Distilled Water Expensive?
A: The chart below compares the cost of one 8-ounce glass of treated water.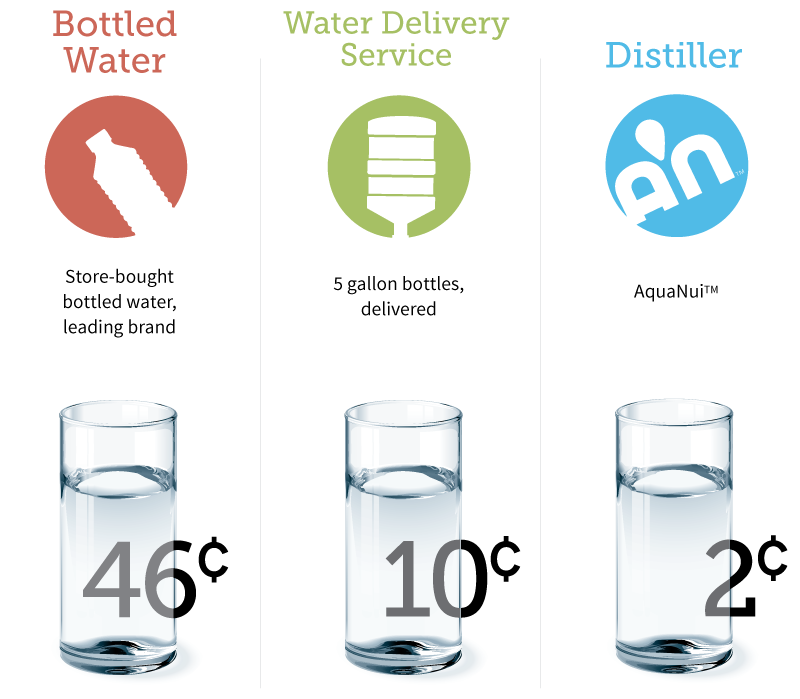 (Based on 8 oz of water average cost)
Figures include cost of the treatment system and electricity over the life of the machine. AquaNui distiller costs based on 10 cents/kilowatt-hour residential electrical rate for Lincoln, Nebraska. Bottled water price based on a leading bottled water brand and water delivery service available in Lincoln, Nebraska. The AquaNui distiller cost per glass is rounded up.
Q: I have heard that distillers use a lot of electricity. It that true?
A: That depends on what you mean by a lot. Household water distillers use about 3 KWH to make one gallon of distilled water. If you use 10 cents per KWH as the average electricity rate in the United States, that works out to be about 30 cents for a whole gallon of pure, distilled water. We don't think that is too much. Do you?
Q: I have also heard that distillers cost a lot of money. Do they?
A: Like almost everything on the market, you get what you pay for. Good distillers are well-designed and made from stainless steel. With proper care and maintenance,  stainless steel distillers can last 25 years or longer. We have distillers in the field that are more than 40 years old. Some plastic distillers last only a year or two and many do not have replaceable parts
AquaNui distillers can be configured to meet the needs of your home or office so you're producing the exact amount of water you need. We also offer convenient financing.
Q: I drink very little water and live alone. Is a distiller really worth it for a single person?
A: You will most likely drink more water when it is distilled. Unconsciously some people avoid drinking their tap water because they don't like the taste of it or are suspicious about what is in it. Distilled water will give you peace of mind and tastes great! Of course you will want to use your distilled water in any cooking and baking you might want to do. You kidneys will appreciate high-quality distilled water and so will your guests. Any investment in your health is well worth it.
Q: How does drinking distilled water impact the environment?
A: Bottled water is flooding our environment with wastes. Here are just a few of the sobering statistics from a recent article in the Huffington Post :
Out of the 50 billion bottles of water being bought each year, 80% end up in a landfill, even though recycling programs exist.
17 million barrels of oil are used in producing bottled water each year.
1,500 bottles of water are consumed per SECOND in the U.S.
It takes three times the volume of water to manufacture one bottle of water than it does to fill it, and because of the chemical production of plastics that water is mostly unusable.
Drinking distilled water is a responsible choice for the planet.
Q: What about reverse osmosis and carbon filters?
A: Steam water distillers perform with greater effectiveness than do reverse osmosis systems and other filter-based systems right from Day 1. And, they continue to perform effectively, long after reverse osmosis systems and carbon filter devices have had to have their filters replaced.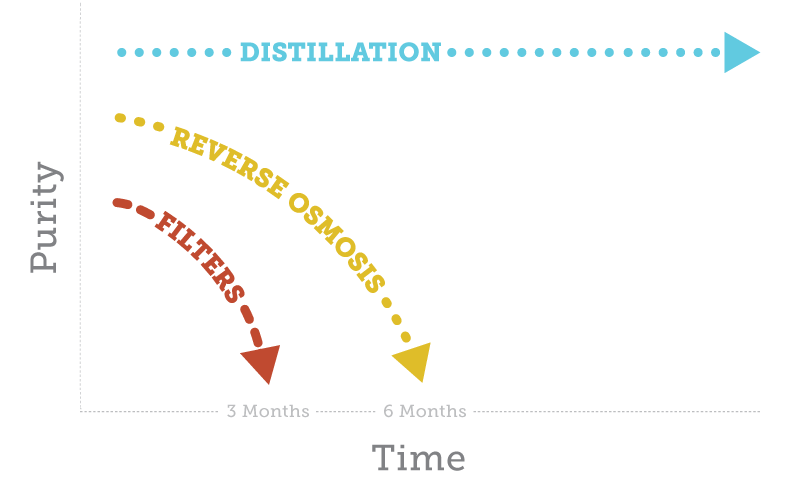 Typical carbon filter units (red) and reverse osmosis machines (yellow) require filter changes at 3 month and 6 month intervals respectively.
Q: Isn't a carbon filter good enough for making my water pure?
A: Carbon filters are popular because they are cheap. However many toxins are NOT removed by carbon alone, and carbon filters DO NOT remove bacteria and viruses effectively. Furthermore, carbon filters lose effectiveness relatively quickly and must be changed frequently. The Water Quality Association says that the biggest problem with filters is that the users seldom if ever change them. Old filters are not only ineffective but they can become a breeding ground for bacteria.
Q: What's in my tap water?
A: You can have your tap water tested by an independent lab to see what it contains. Testing is generally not required when purchasing a distiller for the home as distillers are so good at removing virtually all contaminants. If you are seriously thinking about a good filter system you need to have your water tested first by a certified testing laboratory so the professional you are working with will know how to configure your filter. You shouldn't rely on the filter salesperson's tests, as these are designed to get you to purchase and sometimes can be deceptive.
No water test will tell you everything that is in your water but a national EPA certified laboratory that offers and affordable water testing packages for homeowners is Water Check in Cleveland, Ohio. They are a division of National Testing laboratory and can be contacted by calling them on their toll free line which is (800) 458.3330 or on their website, which is watercheck.com.
Q: I have heard that fluoride is good for my teeth. Does a distiller leave it in the water?
A: The addition of fluoride to water has always been and still is very controversial. Many dentists are now of the opinion that it is not a good practice. We do know that in areas where the fluoride is naturally present it, it cause mottling of the teeth and other suspected side effects.
Distillation removes fluorides from the water very effectively.
Q: Don't we need the minerals that are in water?
A: The minerals that build up in your kettle are like rocks. This is not the form for ready absorption by your body. You need minerals from an organic source not inorganic minerals. Good sources of minerals are vegetables and fruit in a healthy diet.
Q: Should I add minerals back to my distilled water before drinking it?
A: We do not generally advise this. It really is not necessary if you are eating a diet that includes fruits and vegetables, or animals that have obtained minerals from their food sources. Adding minerals to water in a stainless steel tank is definitely to be avoided as it will cause severe oxidation problems in the tank. If you do not feel that you are getting enough of these vital nutrients in your diet, we would recommend that you supplement with a good vitamin/mineral combination tablet.
Q: What about alkaline water?
A: The equipment that makes alkaline water will not work on water that is free of impurities. The first priority is to remove the toxins. Then, if you wish, add a suitable mineral filter and make alkaline water if you feel you need it.
Q: What other uses are there for distilled water?
A:  Distilled water for laboratory use is common and very useful to scientists, yet you can find many uses for distilled water in your home. It's great for personal hygiene including brushing your teeth and rinsing your hair. Your dog, cat and any other pets will enjoy and benefit from drinking distilled water. Your house plants, too, will thrive beautifully on distilled water. Bouquets of fresh flowers will last longer when placed in distilled water.
You can also use distilled water for:
sprouting seeds for a salad
starting new plants for your garden
cleaning contact lens
filling steam irons
filling aquariums
adding to batteries and radiators in your automobiles
spot cleaning delicate clothing.
Q: I have tasted distilled water and I do not like the taste. What can I do about that?
A: Chances are you were drinking distilled water from a plastic bottle or jug. It often does have an unpleasant plastic-like taste. Distilled water from our distillers tastes very good to most people, but for some there is a short adjustment period since our taste buds are used to the chlorine and ammonia taste or something else that is present in their tap water. For those folks I would suggest adding a couple of drops of lemon juice to a glass of water. Chilling the water also makes distilled water more enjoyable.
Q: What do doctors say about distilled water?
A: Many doctors advise their patients to drink distilled water, especially their patients who have arthritis, kidney problems, or heart disease. Of course we can't make health claims but doctors can and do. A doctor named Balch even wrote a very popular health book about his strong belief in distilled water. It is entitled "Prescription for Nutritional Healing". Several other doctors, especially those in to preventative medicine have written books praising the benefits of distilled water. We can get you reading list of these doctors if you give us your mailing address.