Built by Hand in Lincoln, Nebraska
AquaNui™ is the latest line of premium water distillers to come from Pure & Secure, LLC, maker of the Pure Water® brand. For 45 years, families, doctors, scientists, corporations and governments have relied upon Pure Water distillers to provide the cleanest, purest water possible. Now they can also rely on AquaNui.
Our products are sold throughout the world. Our brand recognition is simply exceptional." — Al Meder, President, Pure & Secure
We set the standards for the industry
Our president, Al Meder, passionately keeps the AquaNui team focused on its core strength — manufacturing the best water treatment systems on the market. He is the former Chairman of the Distillation Committee at the Water Quality Association (WQA) and is the author of Distillation – Process and Technology, an authoritative reference used worldwide by water treatment professionals seeking WQA certification.
No distiller goes out the door until it's inspected and tested
We manufacture the patented AquaNui premium water distillers individually by hand. We have a close-knit family of employees. Some of our craftsmen have been with the company for more than 15 years. We have never outsourced our production overseas. Every machine is carefully inspected and tested. When you purchase an AquaNui, you know you're getting a high-quality machine.
We are proud of our products and guarantee their performance
We source premium components and choose U.S. suppliers whenever possible. Our stainless steel sheet metal, for examples, comes from U.S. producers. AquaNui patent-pending, premium water distillers and storage tanks carry a 15-year limited warranty — a 2-year full warranty on electrical parts. Distillers we produced 40 years ago are still running strong.  We've designed our water distillers to last. Customers tell us all the time how happy they are with the quality and durability of our products.
We don't want to give up control of our quality, which is fundamentally why we manufacture in the USA." — Paul Meder, Director of Technical Services and Chief Designer, Pure & Secure
Trusted Premium Water Distillers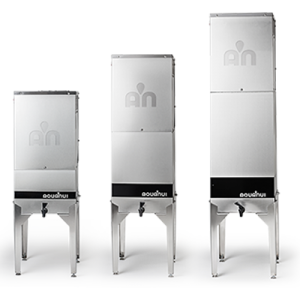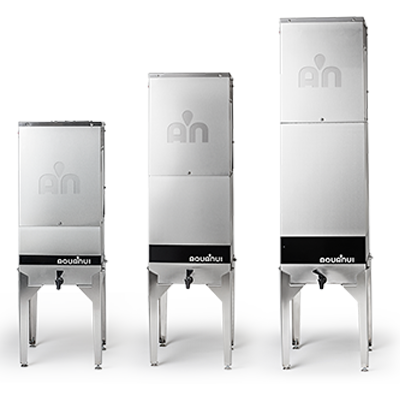 AquaNui premium water distillers combine the best in design, performance and price. Stainless steel is the ideal material for a distiller and makes every AquaNui unit incredibly durable.  AquiNui water distillers are modular and space-saving. They're designed to fit your needs and your lifestyle.
It's easy to configure an AquiNui premium water distiller for your home or office:
Select the production capacity that fits your family or workplace.
Pick a storage tank size.
Choose your accessories and add-ons like one of our elegant faucets or a pump kit that allows you to dispense pure distilled water throughout your home or workplace.
AquaNui distillers are easy to install. A complete installation kits come with every AquaNui.
Why not configure your AquaNui today? It's easy to do. If you need assistance, our customer service representatives are ready to help.
Call us today: 1-800-875-5915
We have well-trained customer service technicians.
Many of our customer service technicians have been with us for over 20 years.