What's in Your Drinking Water?
Did you know that the EPA regulates only a small number of the over 85,000 possible contaminants found in drinking water?  It's true.  There are many contaminants in tap water that, most likely due to cost, are not regulated at all.  That doesn't always translate into the cleanest water.  So, if your tap water comes out of your faucet with unusual odors, has an unusual color, or small particles can be seen, or you want to drink toxin free water, it is time to invest in a water purification system.  There are many solutions available on the market, but which one is the right one?  Research shows us that distillation is the best way to purify water.  Distillation removes more contaminants than filters or reverse osmosis, and water purity doesn't degrade over time.
High Quality. Long Lasting and Made in the U.S.A.
AquaNui distillers will produce the same high purity water today as it will ten years from now.  These machines are made from high quality 304 grade stainless steel for durability and to protect water quality.  We are also proud to say that these units are made in the U.S.A. and we care about water and the environment.  In fact, Pure & Secure is the only company in the United States that manufactures countertop water distillers!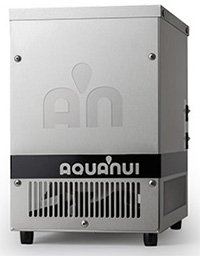 The Aquanui CT is the countertop model from the AquaNui line of home distillers.  AquaNui is the newest brand from the Pure & Secure family, makers of Pure Water Brand distillers, a company that has been producing distillation systems for nearly 50 years.  This unit is small enough to fit easily on a countertop in a kitchen, an RV or anywhere else that is convenient.  At only 9.5 in. wide, 11 in. deep, and 13 in. tall, this distiller can practically fit anywhere.  It is the perfect fit for one or two regular users.
The Aquanui CT also has a simple design.  Water is poured into the top of the distiller.  Once it is filled to the fill line, the float ball will rise and activate the fan and heating element.  The water is then boiled inside the boiling tank.  Steam rises and enters the cooling coil where the fan cools the steam and transforms it into pure liquid water.  From there, it flows through a carbon post-filter for removal of VOCs that may have vaporized with the steam.  Finally, 99.9% pure water flows into a glass collection jar for future use.
The AquaNui CT, unlike most other distillers, does not boil dry.  The float inside the boiling tank will shut off the distiller after making 3 liters of water, leaving enough water to cover the heating element.  By not boiling dry, the boiling tank is less likely to develop hard inorganic scale buildup, the heating element will last longer, and, unlike cheaper plastic models, it helps prevent contaminants from vaporizing.  The AquaNui CT also comes with a steam sterilization function to sanitize the distiller.
Distillation Mimics the Natural Hydrologic Cycle
Distillation, in essence, mimics the hydrologic cycle.  It involves the natural processes of evaporation and condensation.  It is not enough to rely on pitcher filters or RO systems that only employ filtration as a method of purification.  Filtering alone does not produce the purest drinking water.  Distillation removes known and unknown contaminants from your water.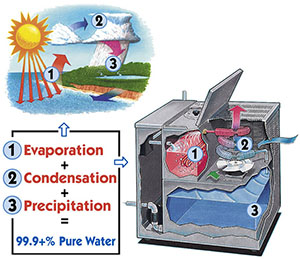 Antidepressants, Hormones and Microbeads
Did you know that many water treatment facilities are not prepared to remove things like modern pharmaceuticals or makeup microbeads?  There are currently things like antidepressants, hormones, and anticonvulsants in many people's water.  Do your own research and you will find millions of articles on water safety, boil alerts, contamination, lead poisoning, and much more.
Perfect for One or Two Users
Fortunately, there is something you can do to protect yourself, your loved ones, and even your pets, for very little cost.  The AquaNui CT is a small, portable distiller that is perfect for apartments, small households, an RV, or even a vacation home.  We are certain that the AquaNui CT is the best countertop water distiller for your hard-earned money.  In fact, the only reason not to own an AquaNui CT is because you need more pure water, and want to upgrade to a larger AquaNui automatic water distiller.
Additional Reading & Sources
Toxic Substances Control Act of 1976
The bizarre way the U.S. regulates chemicals — letting them on the market first, then maybe studying them.