AquaNui Distilled Water is Less Than 2 Cents Per Glass
The cost of distilled water is much lower than most people think.  It is much less expensive than bottled water or delivery services.  This is exactly why so many people have chosen to rely on pure vapor distilled drinking water.  Distillation provides the highest removal rate (99.9%) for the broadest spectrum of contaminants.  The result is the purest drinking water on Earth!  That is a priceless commodity when you consider the value of your health and peace of mind.  But, what about your pocketbook?  How much does vapor distilled water actually cost?
The answer varies depending on whether you're buying your water in bottles, paying to have it delivered, or producing it at home with your own home distilled water system.  A recent study compiled the following results:
Quit Buying Bottled Water and Save Money!
At less than 2 cents per glass, the AqauNui water distiller proves to be a money-saver!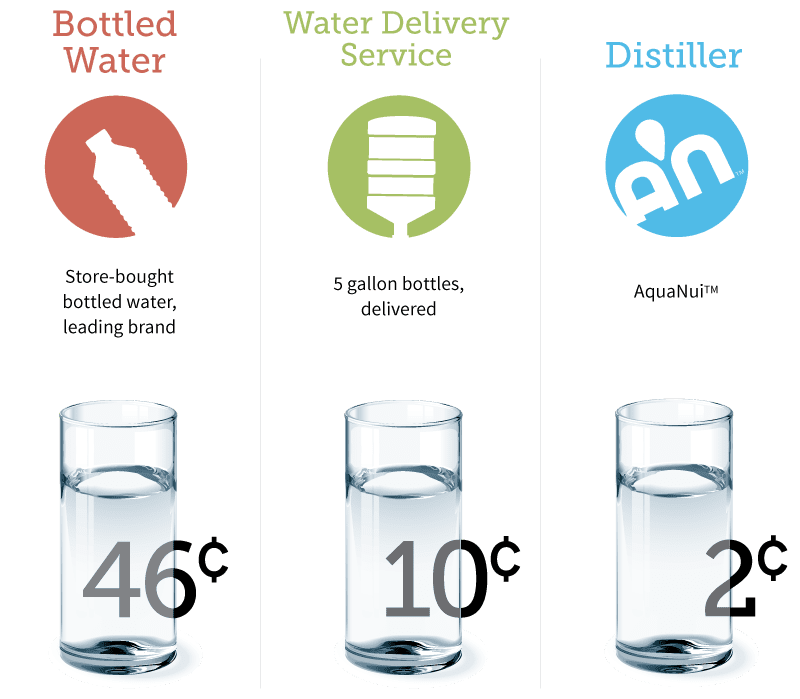 (Based on 8 oz of water average cost)
You can't beat the convenience of having an abundance of pure, great tasting, vapor-distilled water on tap in your home.  No delivery hassle. No environmental waste or worries about plastic bottle contamination.  And considering the savings, it is well worth it to invest in one of AquaNui's home water distillers.
How Many Gallons of Distilled Water Do You Need a Day?
AquaNui Water Distillers are available in models to fit any family's needs, producing from 1 to 12 gallons per day and storing up to 25 gallons. Automatic units like the AquaNui 8G, 10G and 12G tap into your water line to produce a continuous flow of vapor-distilled pure water to the storage tank.  From there you can choose to pump the water to multiple points of delivery, including your sink, refrigerator, and ice-maker.  For lesser water quantities, the AquaNui countertop water distiller, produces approximately 0.8 gallons of distilled water per batch and fills much like a coffee maker.  It's incredibly easy to use.
Best Warranty in the Industry & Long Lasting
Each of these models is built to last, featuring a 15-year warranty on the high-grade, made-in-the-U.S.A. stainless steel, and a 2-year warranty on electrical components.  For a consistent source of high purity, great tasting water for years to come at a cost that can't be beat, count on AquaNui Water Distillers.
How Safe is Your Tap Water?
Tap water that is tested and deemed "safe to drink" still has chemicals and other things in it – they are just considered to be at "safe and acceptable" limits, which generally means that no one will suddenly get sick and not everyone will end up with cancers or other illnesses from water.  There is no guarantee that some people won't get sick, however.  What's worse, is when officials know the water is not safe, but do not sound the alarm, leaving thousands of people in the dark when it comes to water quality.
The water crisis in Flint, Michigan brought to light the fact that, across the United States, almost two thousand drinking water systems have failed lead testing since 2012.   Lead, however, is just one of many concerns.   There are over 85,000 possible contaminants in our water supply!  Of those, water municipalities test for roughly 120. With such limited testing, it's impossible to have peace of mind about your tap water, regardless of where you live.  In addition to that, many municipal water suppliers have a disclaimer that reads:
Some people may be more vulnerable to contaminants in drinking water than the general population. This includes immuno-compromised persons such as those with cancer undergoing chemotherapy, those who have undergone organ transplants, people with HIV/AIDS or other immune systems disorders, some elderly people and infants. These people should seek advice about drinking water from their health care providers.
Bottled Water Blues
You may be thinking that bottled water is somehow safer than tap water.  Unfortunately, that is not always true.  Tap water is highly regulated whereas bottled water is not.  In fact, some bottled water is actually tap water that has been purified (simply filtered).  You could filter your own tap water and get similar results.  However, to get truly consistently clean pure water, you will want to get a water distiller.  Not only will it be cleaner, you help save the environment by reducing plastic bottle waste.  Did you know that about 60 million plastic bottles end up at landfills daily?  Getting fresh water doesn't have to cost the environment.