Bacteria in drinking water can cause animals and humans to experience similar symptoms such as vomiting, diarrhea, fever, headaches, fatigue, and sometimes even death. Many different types of bacteria may be present in well or tap water at any time. While municipal water treatment plants do their best to kill bacteria with disinfectants, it is ultimately up to the consumer to know what is in their water. Moreover, those who drink well water must be extra vigilant because if one type of bacteria is present, other bacteria have likely found their way into your well.
Common Bacteria Found in Drinking Water
Escherichia Coli (E. Coli) – Symptoms of E. Coli are nausea, vomiting, diarrhea, and cramps.
Campylobacter jejuni – Symptoms of Campylobacter Jejuni include fever, diarrhea, pain, and cramping.
Salmonella – Symptoms of salmonella include chills, headache, fever, abdominal pain, and diarrhea.
Legionnaires disease – Symptoms of Legionnaires disease are fever, aches, cough, shortness of breath, and even death.  Legionnaires disease is caused by Legionella Pneumophila.
Will Chlorine Kill Bacteria?
Chlorine can kill bacteria in drinking water if added in the right amounts. Water treatment plants use chlorine dioxide, chloramines, or regular chlorine to disinfect drinking water. Well owners can use 3 pints of unscented liquid bleach for every 100 gallons of water to kill bacteria. (Source: University of Georgia) However, bacteria can also grow in water pipes, so you should have your well water tested if you suspect something is wrong.
Water Distillation Kills Bacteria
Yes. The process of distillation kills bacteria found in tap water or well water. By boiling the water, most bacteria are disrupted. Boiling will kill most bacteria and even parasites; this is why a Boil Alert is issued by local governments when water is considered unsafe to drink. However, boiling alone is more like pasteurization rather than sterilization. Even after boiling the water, it's possible that you might still be consuming dead biological contaminants left behind. In addition to that, if there are other contaminants present, like heavy metals, they can become even more concentrated and more dangerous to consume.

Distillation is much more effective than boiling alone at removing bacteria from water.  During distillation, the pure steam from the boiling process rises and is condensed for drinking.  Distillation leaves all unknown toxins or contaminants behind in the boiling tank.  Most importantly, bacteria in their inactive phase produce seed-like spores (which can survive in boiling temperatures).  These spores are also left behind in the boiling tank. Distillation is also helpful in removing iron bacteria from well water or tap water.  We've had AquaNui Distillers tested by a trusted 3rd party lab and found that our water distillers remove over 99.9% of bacteria present in water. See our 3rd Party Lab Results to view all the contaminants that AquaNui distillers can remove.
Bacteria in Well Water
Removing bacteria from well water will likely require hiring a licensed contractor. They will physically remove bacteria from the well by scrubbing the well casings, removing and cleaning pumping equipment, and then chemically treating the well. Disinfectants may be added to the well, including surfactants (detergent-like chemicals such as phosphates), acids, or bleach.
(Source: Minnesota Department of Health)  If you are concerned about drinking well water that has been heavily treated with chemicals, using an AquaNui Distiller is an excellent way to remove those chemicals right before you drink the water.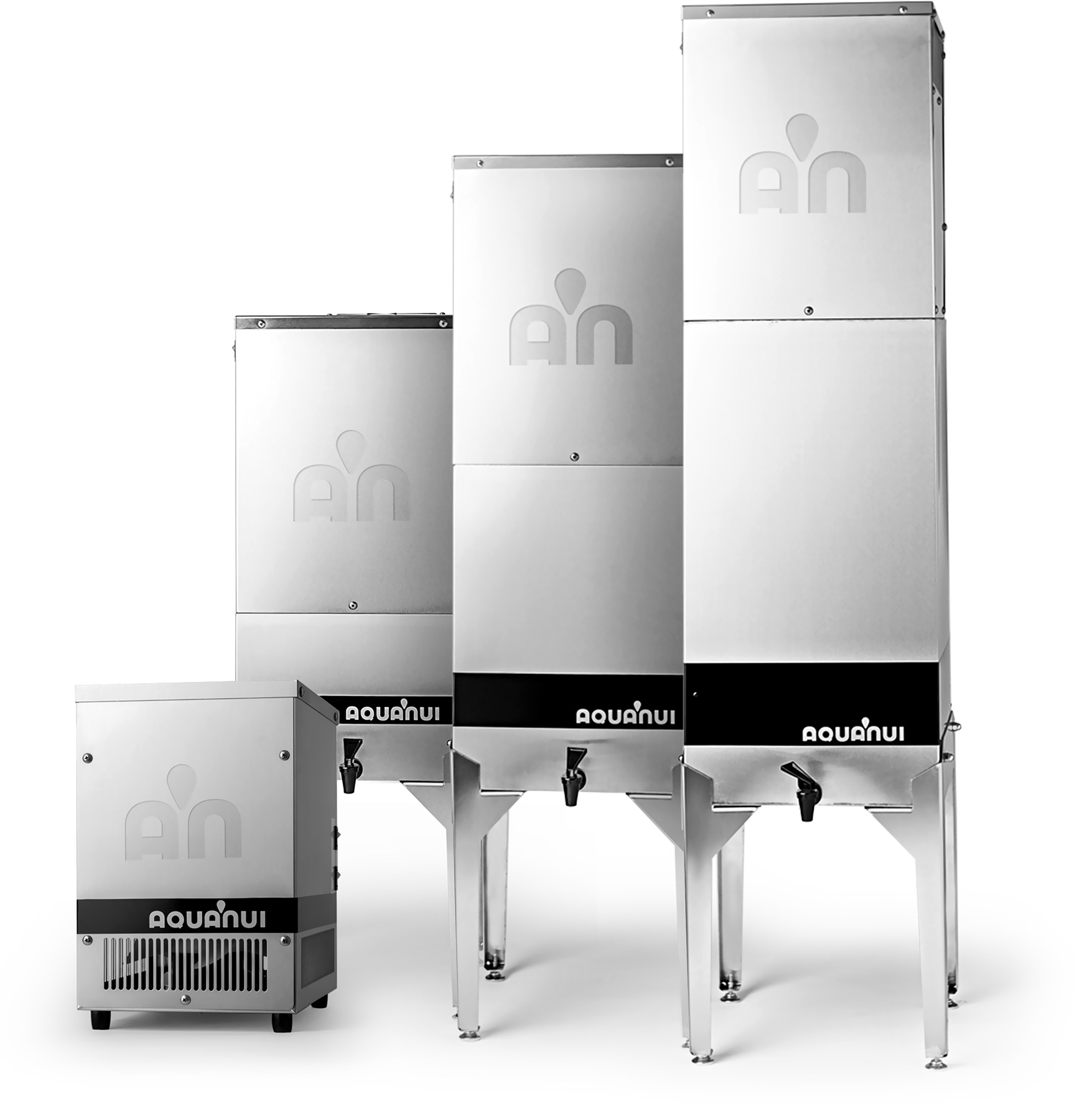 AquaNui Distillers: Countertop and Automatic Water Distillers
Bacteria-Free Drinking Water
A home water distiller is the best way to remove bacteria from drinking water.  An AquaNui Distillation System will remove bacteria as well as parasites and viruses.  Additionally, a AquaNui Distiller will remove nitrates, pesticides, lead, microplastics, and other possible contaminants. Take control of your drinking water by investing in a long-lasting, made in the USA water distiller.